A family company that recycles and revalues your metals
Founded in 2003 by the Huntz-Vandenbossche family, B.R. Met (Brussels Recycling Metal SA) is a leader in the Brussels region for the recycling of electronic and electric waste, as well as cables. We purchase metallic waste of all sorts from companies and individuals, which are manually taken apart and sorted, to then be recycled and reused by factories and foundries.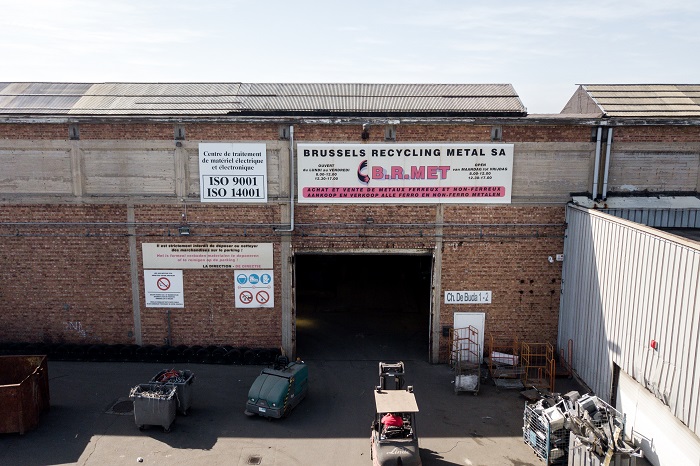 A reputable and recognized company for the treatment of metal wastes and WEEE
Member of Denuo (Belgian federation for companies treating and recycling waste), B.R. Met meets all the requirements and authorizations to perform all its activities.

In the Brussels region, B.R. Met is the first metal recycling society that has the authorization to dismantle all electronic appliances (WEEE).

B.R. Met is certified with the ISO 9001 and ISO 14001 label since 2007.

In 2007, our company was awarded by the Institut Bruxellois de Gestion de L'Environment (today known as Bruxelles Environnement) with the recognition of "Entreprise Eco dynamique—2 stars". This award is only given to companies that voluntarily take into consideration environmental standards.

Having a committed environmental policy, B.R. Met is in constant evolution in matters of recycling since its establishment. It is thanks to this conscious vision that the company obtained in 2015 the certificate of production of "End of Waste" for copper. We produce cooper with a maximum of 2% of impurities, in accordance with European legislation and regulation.

Our company is licensed for the transportation and collection of wastes and WEEE in the Brussels region (IBGE), in Flanders (OVAM) and in Wallonia (OWD). We work in conformity with the BRUDALEX and the VLAREMA.

Since March 2016, B.R.Met  is certified WEEELABEX, a European certification for the treatment of electric and electronic waste.
We are in constant innovation to optimize the process of waste recycling

Brussels Recycling Metal combines knowledge and family strength to continuously research new technologies and innovations to improve the treatment and process of waste recycling. With 25 million tons of plastic waste per year only produced in Europe, it is crucial to find and implement solutions to recycle this type of waste. We invest in research to enhance the manual and mechanic processing, as well as the recycling of plastics.
Sheltered Workplace
 
Since 2009, B.R. Met has worked with the APAM, an organization that represents and helps employ disabled workers. B.R. Met's staff teamed up with APAM to find better solutions for the dismantling of electric and electronic waste.